Lewandowski is third player to score 250 Bundesliga goals, after Gerd Muller (365) and Klaus Fischer (268)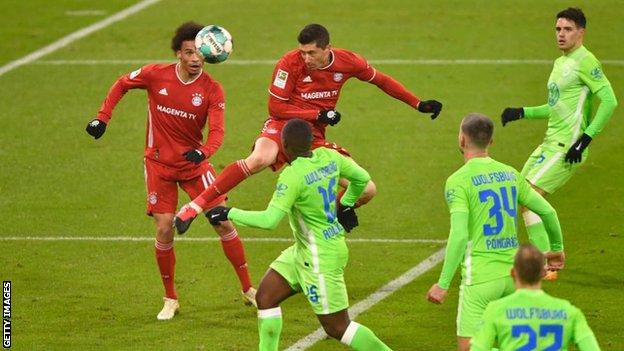 Robert Lewandowski scored twice to pass the 250-goal.
Robert Lewandowski has joined the list of the German Bundesliga heros to cross the 250 goal landmark after Gerd Muller and Klaus Fischer as Bayern Munich breaked Wolfsburg's unbeaten.
The 32-year-old Poland striker scored twice to see a win after Maximilian Philipp had put Wolfsburg in front after just five minutes with an assist from Mbabu.
With a header during the added time in first half, Lewandowski made an equalizer to grab his 250th Bundesliga.
The Bayern Munich high ranked player darted clear after a come back into the scond half to create his 251st goal as his second goal in the 50th minutes saw Bayern one point abaft leaders Bayer Leverkusen.
Since the return of the 2019/2020 season Lewandowski has recorded 73 goals in a 64 club matches.